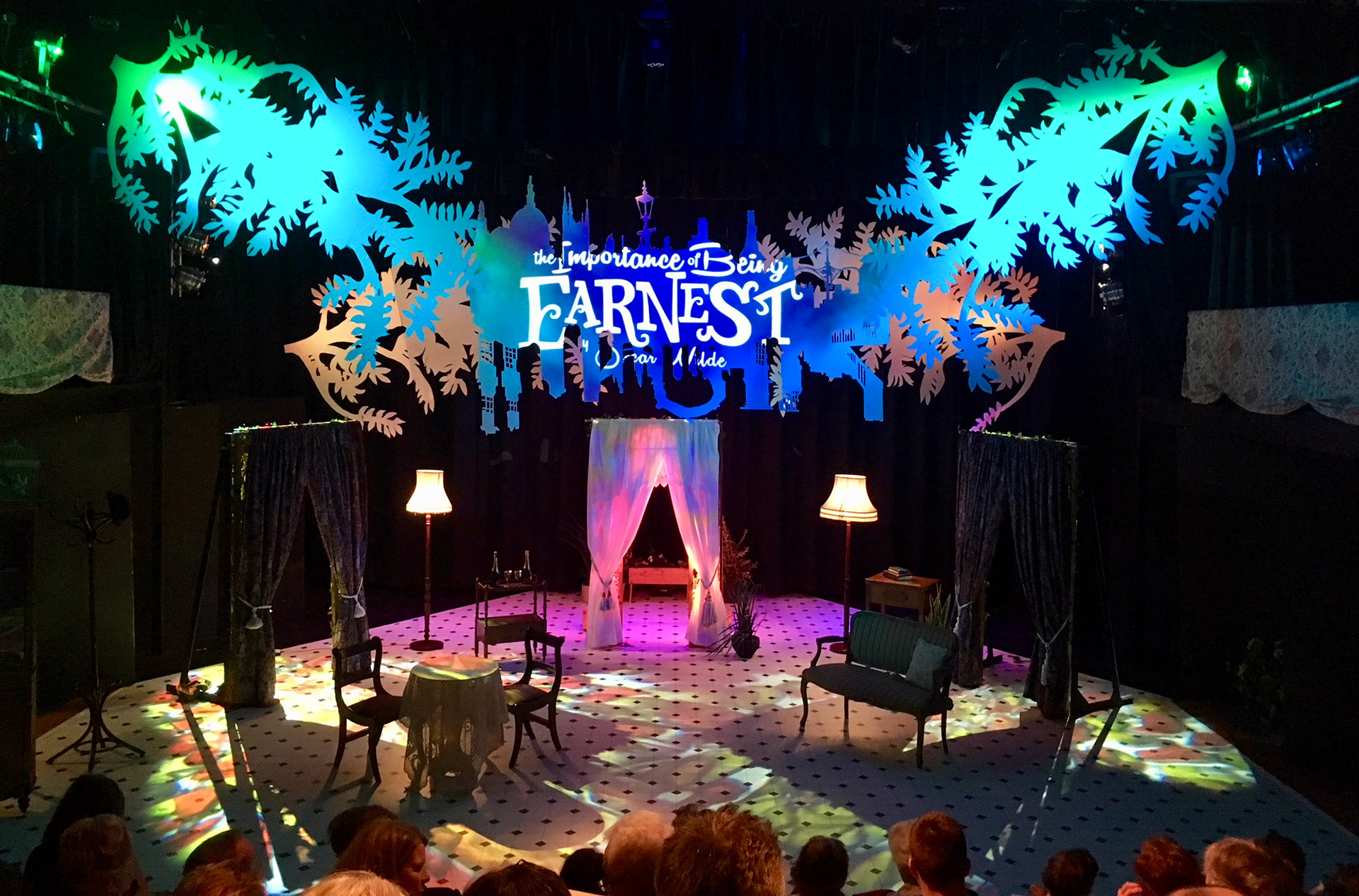 The Importance of Being Earnest, is a classic period piece, it allows for a real experimentation with composition, colour and Victorian motifs. I went for a semi-realistic and semi-stylistic approach to embrace elegance and sheer ridiculousness of Wilde's writing. The set drew on key dichotamies in the play, such as the country vs city; the-single-life/marriage, dining room/gardens, style/cliché... And considering the character's aptitude for double lives, it felt only right that the set would take on this challenge too; much of the furniture in the first Act would transform from living-room chintz to pruned-and-potted greenery for the Act Two; and what was distinctly "city" became country-esque for Act Three. My designs were inspired by Aubrey Beardsley (illustrated Salomé), Rob Ryan (the paper cutout designer) and Ludens Theatre Ensemble (Love, Edinburgh) for their use of projection and flooring. 
Working with Trinity School was very special as I was able to collaborate closely with not only the Director, Chris Chambers, but with the school's Design and Technology Technician, Gary Holden, who welcomed me into the workshop space where I was able to bring my model to life. The set construction involved woodwork, cutting and shaping correx plastic on a large scale, as well as the curtain making which took place in my own studio space.
I worked with students, giving them an introduction to set design and the importance of the model box. It was fantastic to be able to involve them in the sourcing, construction and the actual transformation of the theatre on the get-in.
Sourcing materials involved hiring from professional costume and prop companies (National Theatre and Miller Centre) to working with local shops. I made connections with the local garden centre in order to have real plants on stage; an antique furniture store which provided key period pieces and a hat hire company who were keen to support the school's theatrical pursuits.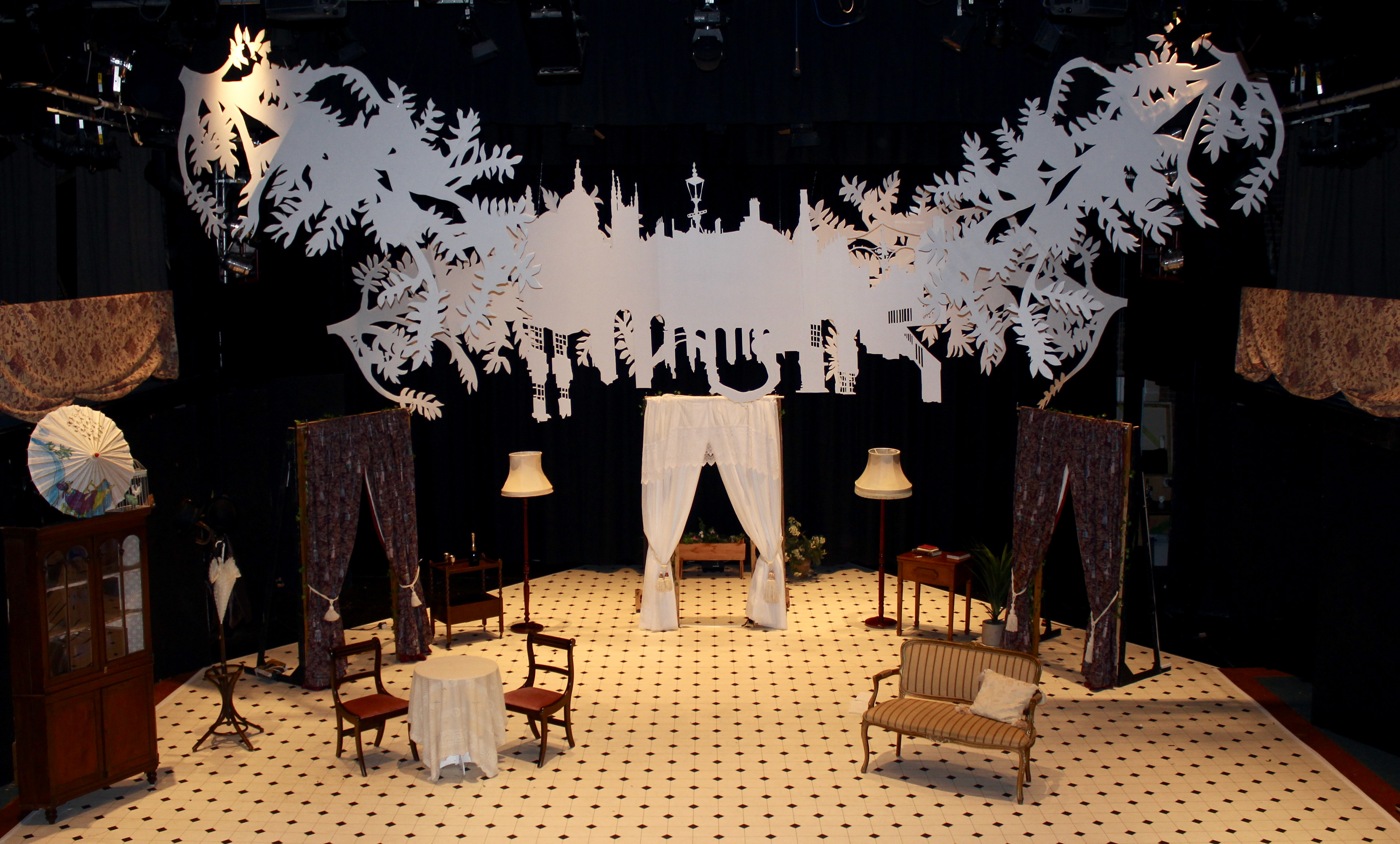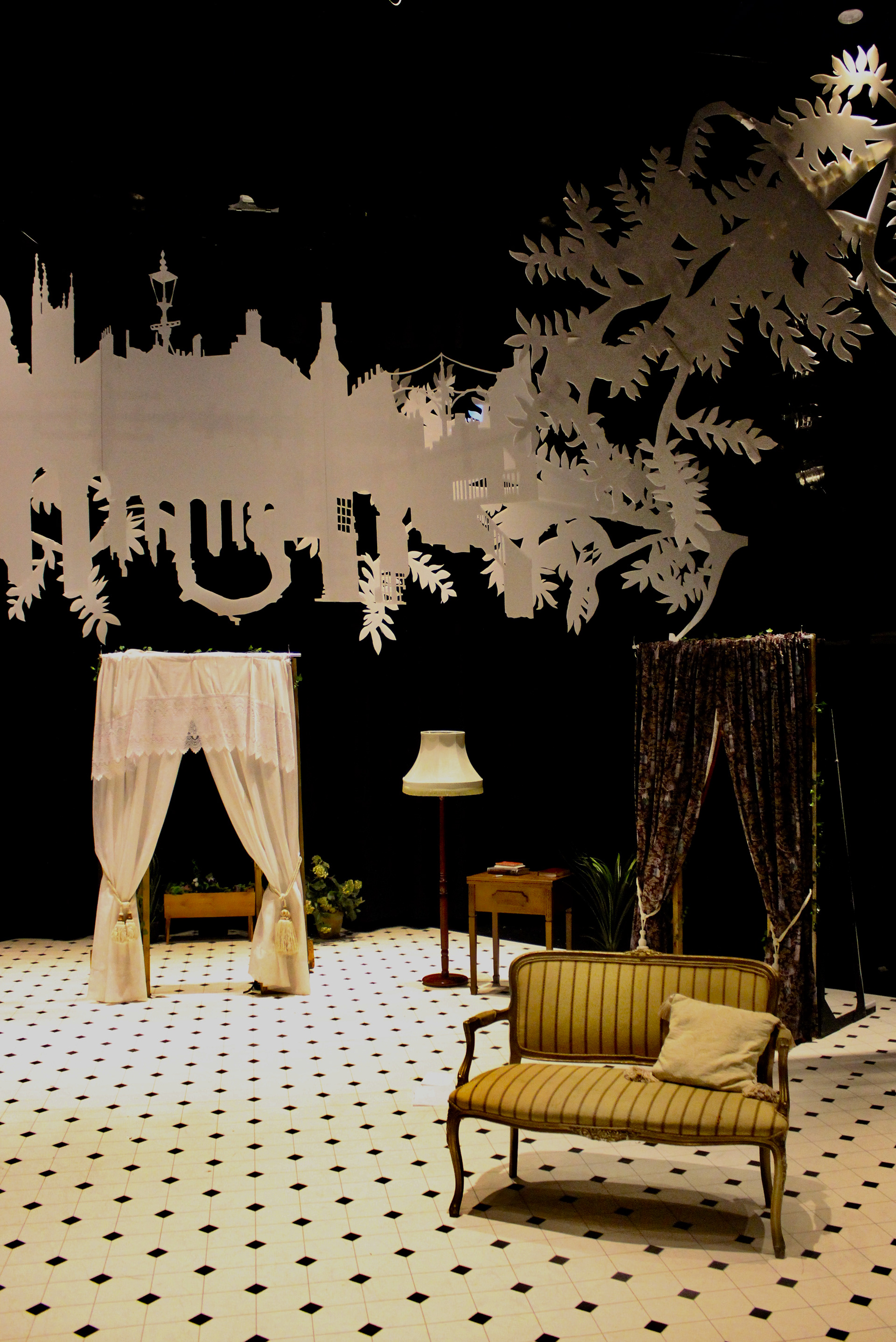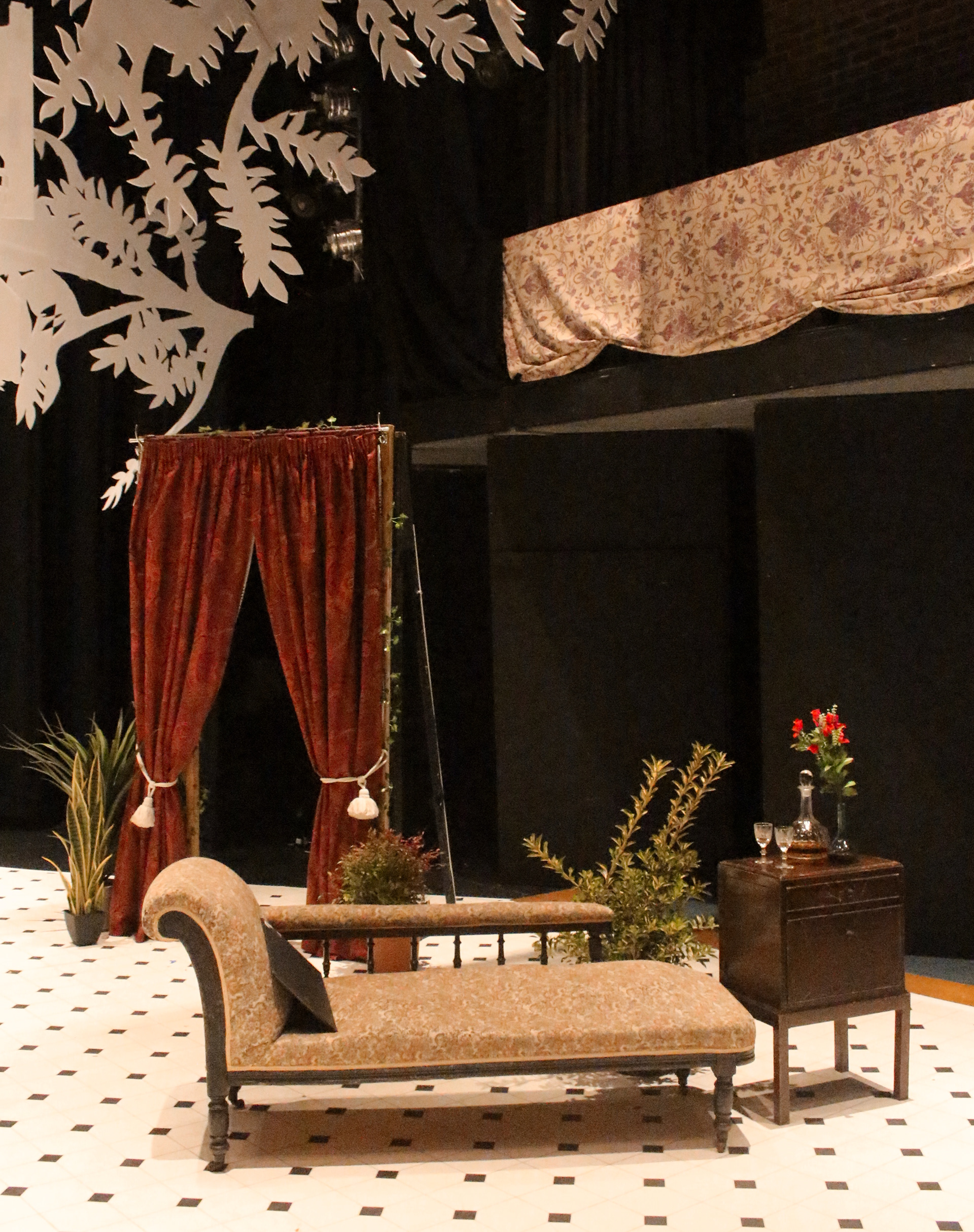 I purposely built the arched Trellises above so that they would be multifunction - evoking the victorian garden in Act two and then supporting curtains for Act one and three. The curtains were reversible, made with two different materials for the respective scenes.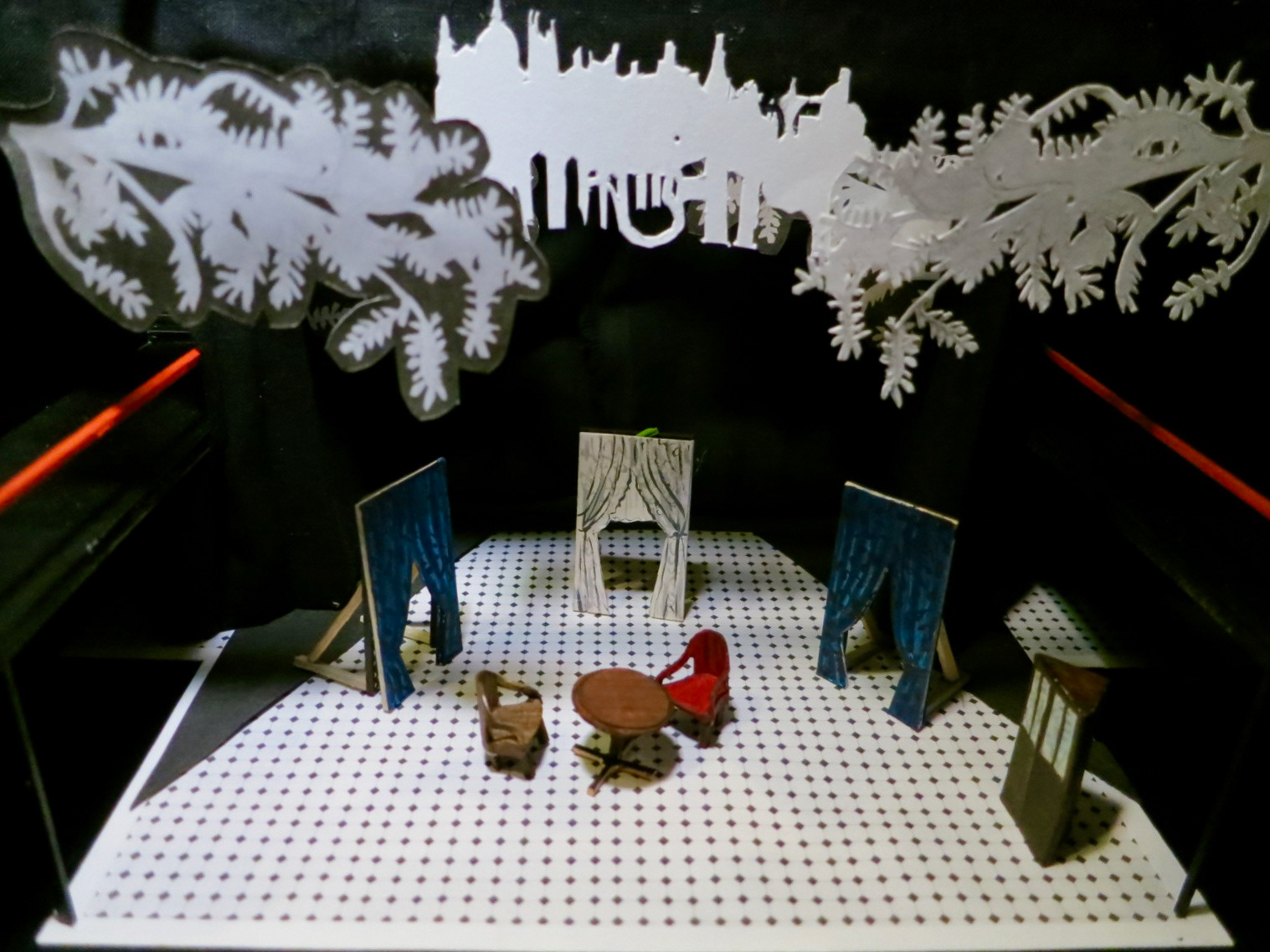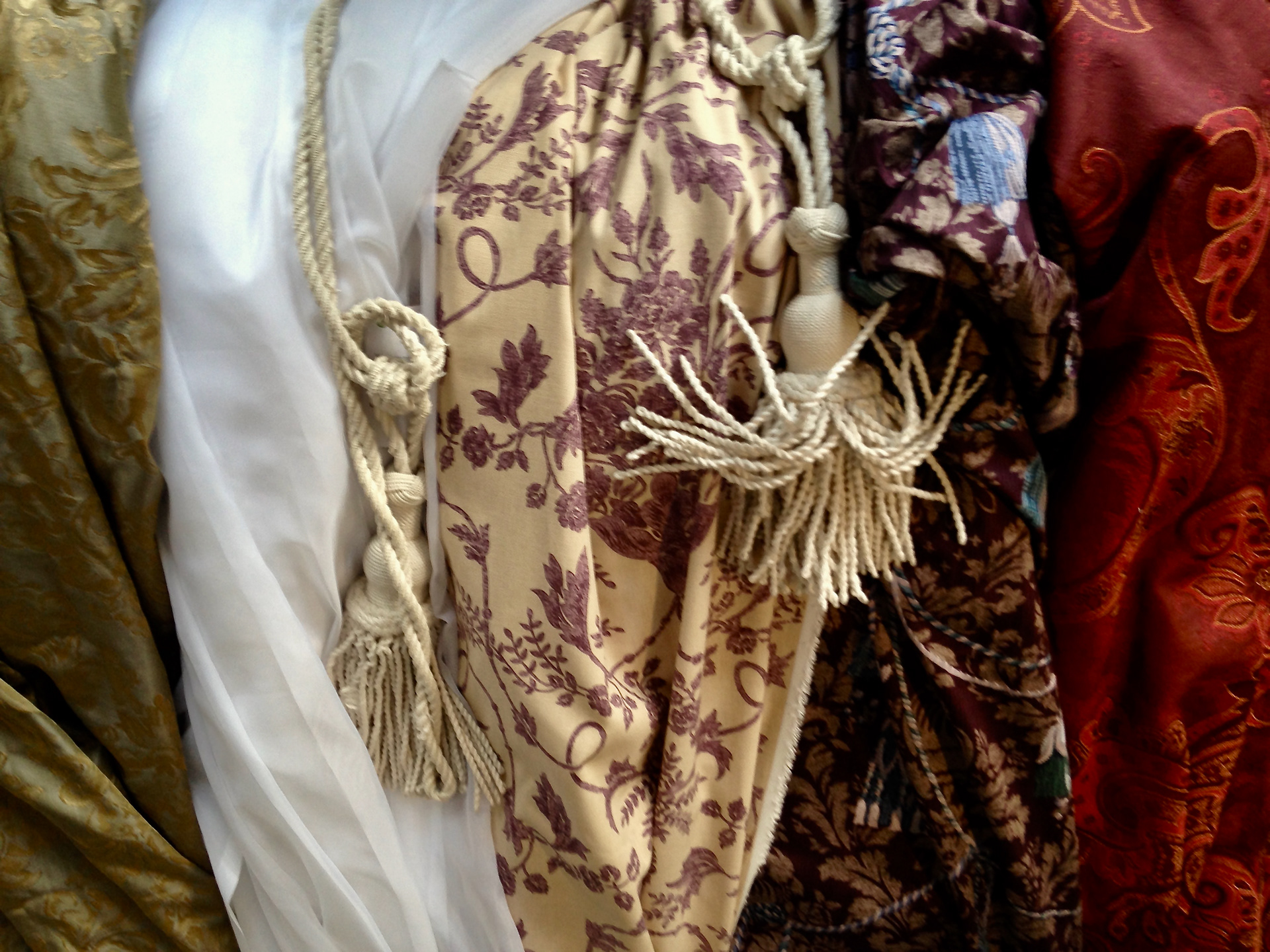 Above, starting on the left, is the image for the projection for Act One, set in London City. It is a photographic collage of Victorian cities and it appeared on the central panel. Top right is a picture of the model box, scale 1:50, that I made to demonstrate the effect of the flooring, the hanging panels and free standing windows/trellises. On the bottom left is the design for the country/city cutouts that were approx 3.60m across and 2.20m high. Bottom right shows the combination of materials used for the side drapes and curtains.