by Bela Bartok, Green Opera, Directed by Eleanor Burke
Grimeborn Festival - Arcola, London - 31st August-4th September 
 Asylum chapel, London - 13th-18th September 
Judith has abandoned all she knows, and follows her lover, Bluebeard, into his cliffside artist's studio. Bluebeard mesmerizes her — she knows the terrifying rumors, she fears she may be on a road of no return, yet she decides to enter his home. The door closes. Judith confesses her love for Bluebeard, believing that it will change him and light up his gloomy home. She repeats her profession of love like a mantra as she demands that he reveal seven secrets. Only when there are no secrets left, Judith believes, can she banish Bluebeard's darkness. She persuades him to reveal his mental anguish, the equipment of his studio and the beauty of his artwork. Their passion grows when suddenly Judith notices his bloodstained bedsheets. Bluebeard insists she must "Ask no questions!' but Judith suspects that something terrible remains hidden. To Judith's horror, Bluebeard at last lays bear his past — a romantic history filled with cycles of artistic obsession and ruin. Judith realises that she is just one of many muses. Brought back to the present, Judith vanishes into Bluebeard's memory. Remembering that Judith too, is gone, Bluebeard mourns the fact that this love, like those which preceded it, was doomed from the first.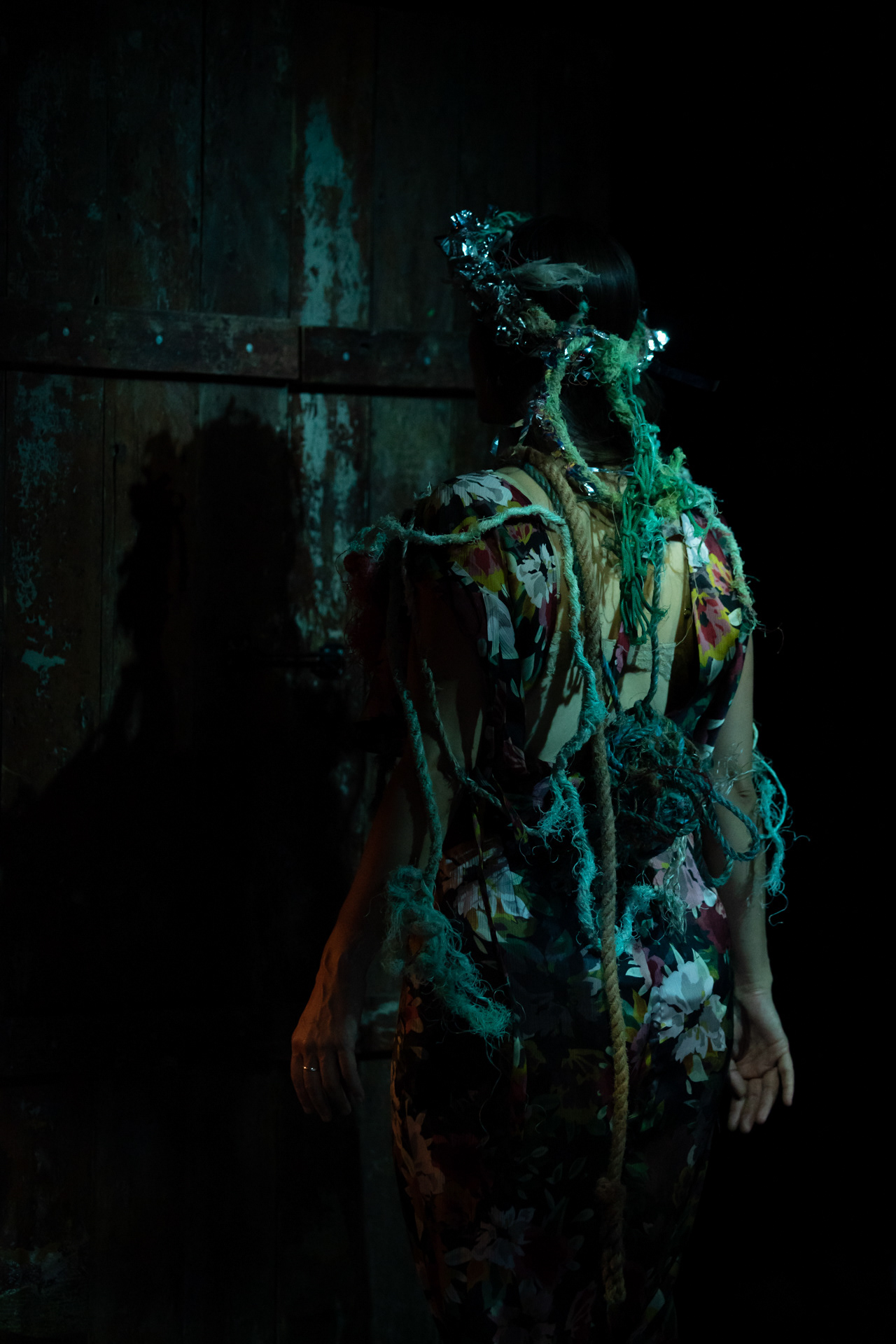 DESIGNING & MAKING BLUEBEARD
Eleanor and I have been working on bluebeard for about 2 years now. Her brief was for me to design a site-specific, eco-friendly set, inspired by an artist's studio and to collaborate with 
Nina Brabbins, an artist working with beach-combed materials. My challenge was to bring these strands together and create a narrative that would incorporate the found materials into the opera with narrative integrity. Hence setting the opera on the cliffs by the sea... and bluebeard makes his art with these ropes and nets and bric-a-brac combed from beaches. The claustrophobia of lockdown has also has an influence on this design - hence bluebeard's castle has become a small enclosed bedroom/studio which contains the action. The relationship itself, the objects, furniture pieces and artworks in the room are the doors that Judith opens. 
The set is made entirely from reclaimed wooden planks (the window, the desk, stool, the sink and the chest). Nina made the four garments for the end of the opera that represent the previous wives. Bea Viña assisted me on the seaweed for the window and sourcing the sheets, that I then turned into the bloody bed scene. Issy Pritchard textured and painted the sink to match the crumbling Asylum chapel walls.
Photography by nick rutter
JUDITH · April Fredrick/Anastasia Inniss
BLUEBEARD · James Corrigan/Julian Debreuil

Musical Director · John Paul Jennings 
Orchestral Arrangement by Thomas Ang
Se & Costume Designer · Emeline Beroud 
Lighting Designer · Trui Malten
Associate Director · Madeleine TrépanierAssociate 
Associate Lighting Designer · Rosie Clarke 
Production Manager · Sean Laing

Stage Manager/DSM · Chloe Jones 
Assistant Director · Finn Lacey
Second Assistant Director · Oscar Simms 
Artist (Costume Props) · Nina Brabbins
Design Assistant · Bea Viña
Scenic Artist · Isobel Pritchard
Production Photographer · Nick Rutter 
Hungarian Coach · Karolina Csáthy
English Translation by Madeleine Trépanier, with thanks to Karolina Csáthy, Andrea Kocsis & Bence Kaló