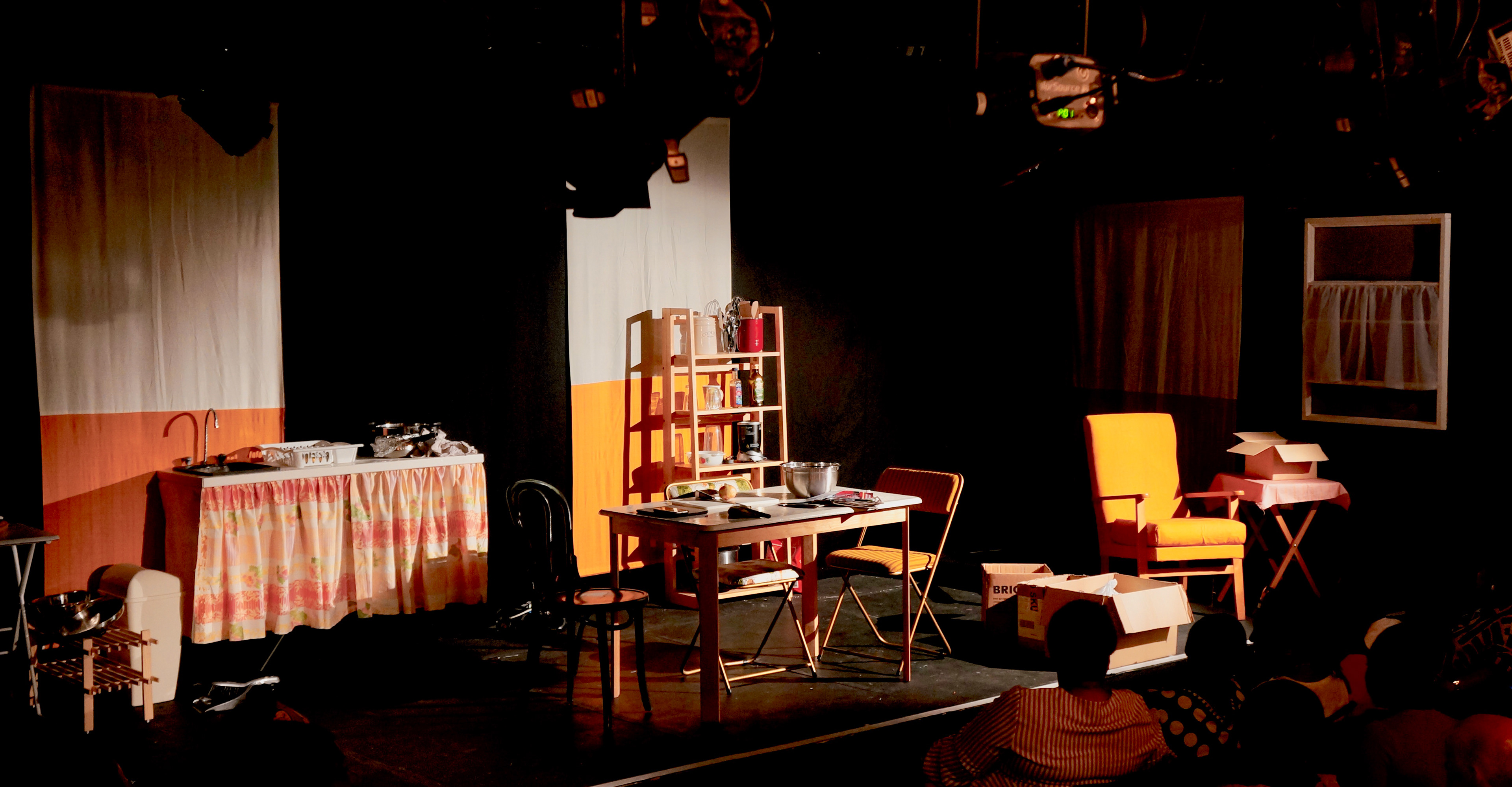 Written and directed by Justina Kehinde and based on the short play by Justina Kehinde and Yosola Olorunshola, UMUADA premiered at the Bunker Theatre in November 2017 as part of Damsel Productions Women Director's Festival. In an extended 60 minute feature UMUADA returned for a five night run headlining the 2018 Play Mill Festival, 10-14th July at the King's Head Theatre. 
Working in collaboration with Chico Shankland ('Sophiatown', Cambridge University Am Dram, 2014), we wanted to achieve several things for this important and sensitive piece of new writing. The play lingers on the characters' difficulty expressing and being open about their mental heath, experience of migration and motherhood. We wanted the stage to feel at once sparse and cluttered - therefore created pockets, island-like sections of the kitchen that would be busy while also being surrounded by the shadows created by the space. Again this worked with colour too, the warmth of the textiles contrasting with the nostalgic lighting that was designed by Gaia Fay Lambert. Justina wanted us to create warmth, bringing in a colour palette reminiscent of Nine Night (Roy Alexander Weise, NT), and yet the sense of a home that will never truly be a home, that has not been quite yet unpacked. The simplicity of the set and the stuff in boxes hoped to emphasise this. On a practical note, we were constructing the set with the theatre's small storage capacity in mind. Therefore all the furniture could be folded down or taken apart every night (see sketches below. For e.g. of the folding kitchen unit, which used the frame of an ironing board). This too literally added to the sense of impermanence.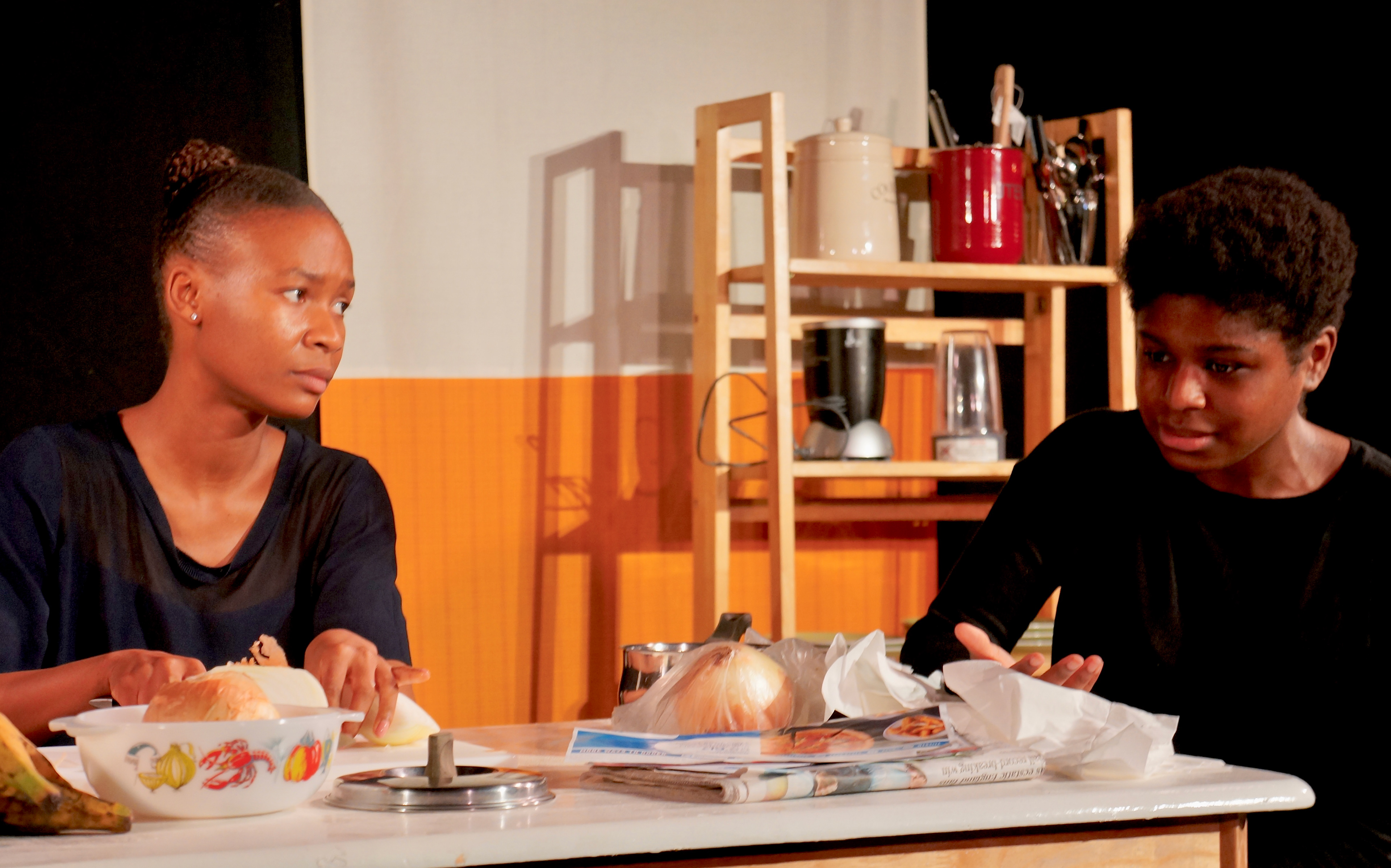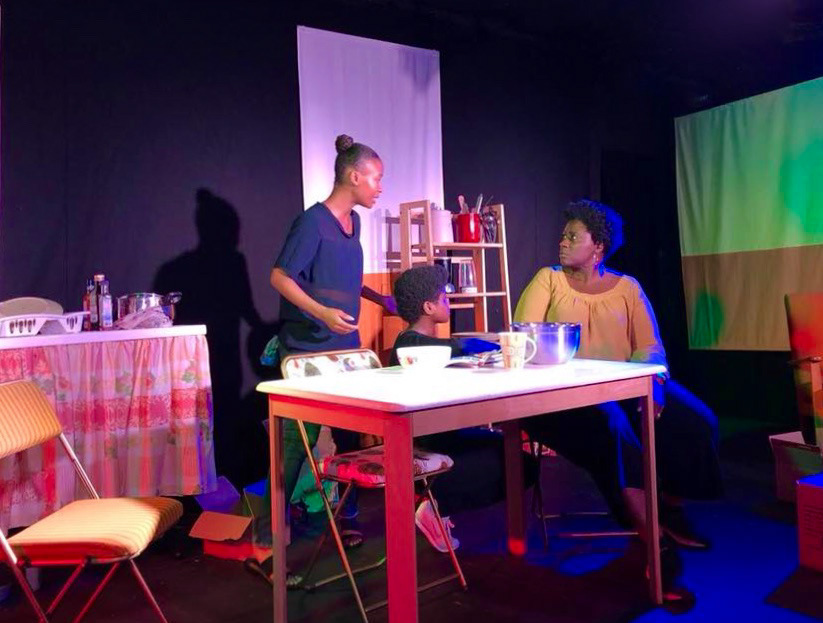 REVIEWS
https://www.ayoungertheatre.com/review-umuada-kings-head-theatre/
5* Review from London Pub Theatres: July 18, 2018, by Dionne Farrell
http://pubtheatres1.tumblr.com/post/176021948472/umuada-written-and-directed-by-justina-kehinde
BLACK BOX LONDON REVIEWS:July 12, 2018, by Valerie
"I was in awe of the simplistic staging and blocking being able to encapsulate home life. Having most of the dialogue centered around the kitchen table preparing food felt oh so authentic because the centre of many African Dispora families is cooking and preparing food. It was almost like entering a Time Warp as I myself have cut Plantain and boiled rice with my mother in preparation of big events."
https://blackboxreview.wixsite.com/bblr/single-post/2016/08/29/Exclusive-Behind-the-Scenes-with-the-Harris-Brothers
Westend Extra: July 12, by Billie Manning 
http://westendextra.com/article/review-umuada-at-kings-head-theatre
UMUADA also featured on London Live: 
https://www.londonlive.co.uk/news/2018-07-06/new-play-umuada-comes-to-the-king-s-head-theatre