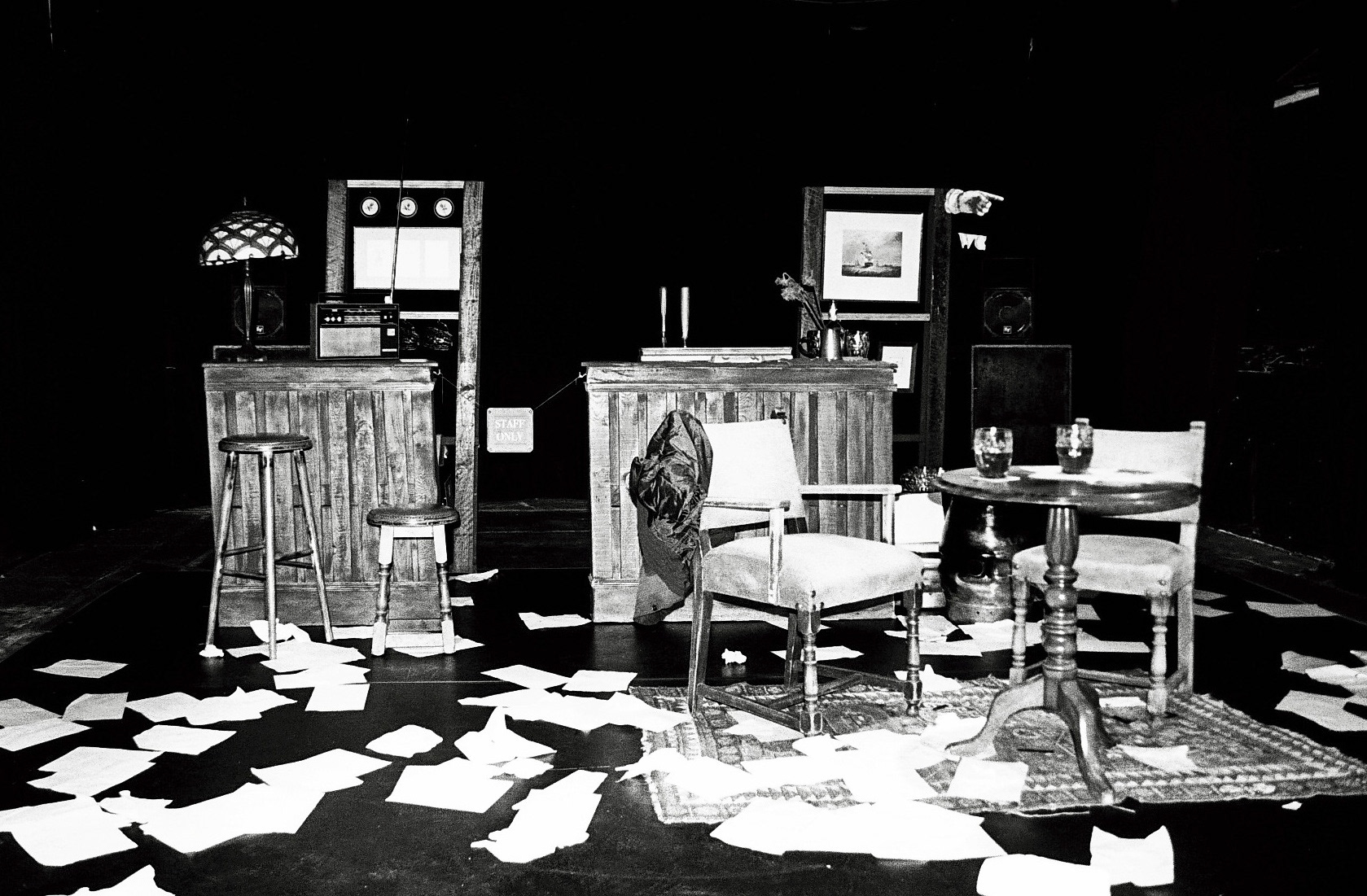 The text
Nowhere Orange was written by Josh Barrow (Silk Road, Trafalgar Studios), directed by Leo Flanagan (The Fall, The Criterion) and produced by Gutter Street Productions. Cast: Max Haynes, Gabriel Akamo and Isobel Warner. This production was on part of Cuckoo Bang's BITS night at the White Bear Theatre and on for two nights at Theatre N16 at the Styx in Tottenham Hale. 
The DESIGN
The design for Nowhere Orange was based on a typical pub interior. Part of the challenge for this play was to source everything within a budget that was just over £200. I decided to take advantage to up-cycle and refurbish materials and furniture from local sources. I developed relationships with my local pubs who were more than willing to hand over old pub furniture, glasses, towels, barrels, taps that they no longer needed. We wanted to the pub to look as if it had been abandoned, and to give it a rusty feel. I repaired and up-cycled the stools, whereas for the two-part bar and shelves, I adapted wooden pallets. For the bar I added wooden panels and mouldings, as well as giving them a not-so-new lick of paint and polish. The old beer tap was a real find, it meant we could create an illusory moment, where the actors truly looked like they were pulling themselves a pint of Guinness. The rest of the props were sourced from antiques, markets and charity shops.
The costumes followed a similar vein. We wanted a timeless and ageless quality to the characters. As if you could turn up to the Red Road Tavern anytime and they would still be there pouring their 'n'th pint and discussing the same banalities. Sam's costume injected a little more action and colour into the pallet. Her costume reflects her adventurousness which ultimately challenges the lethargy of the other two characters.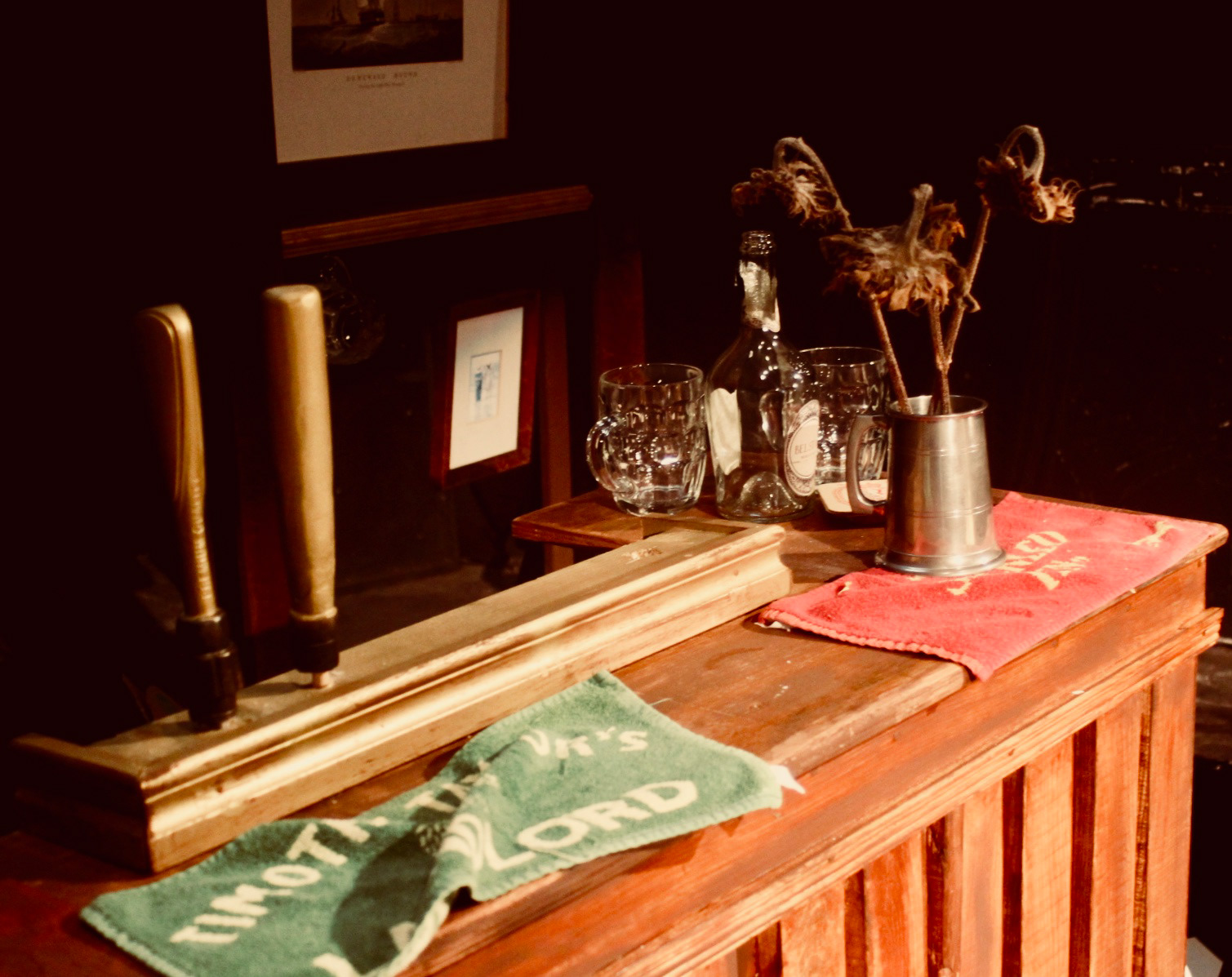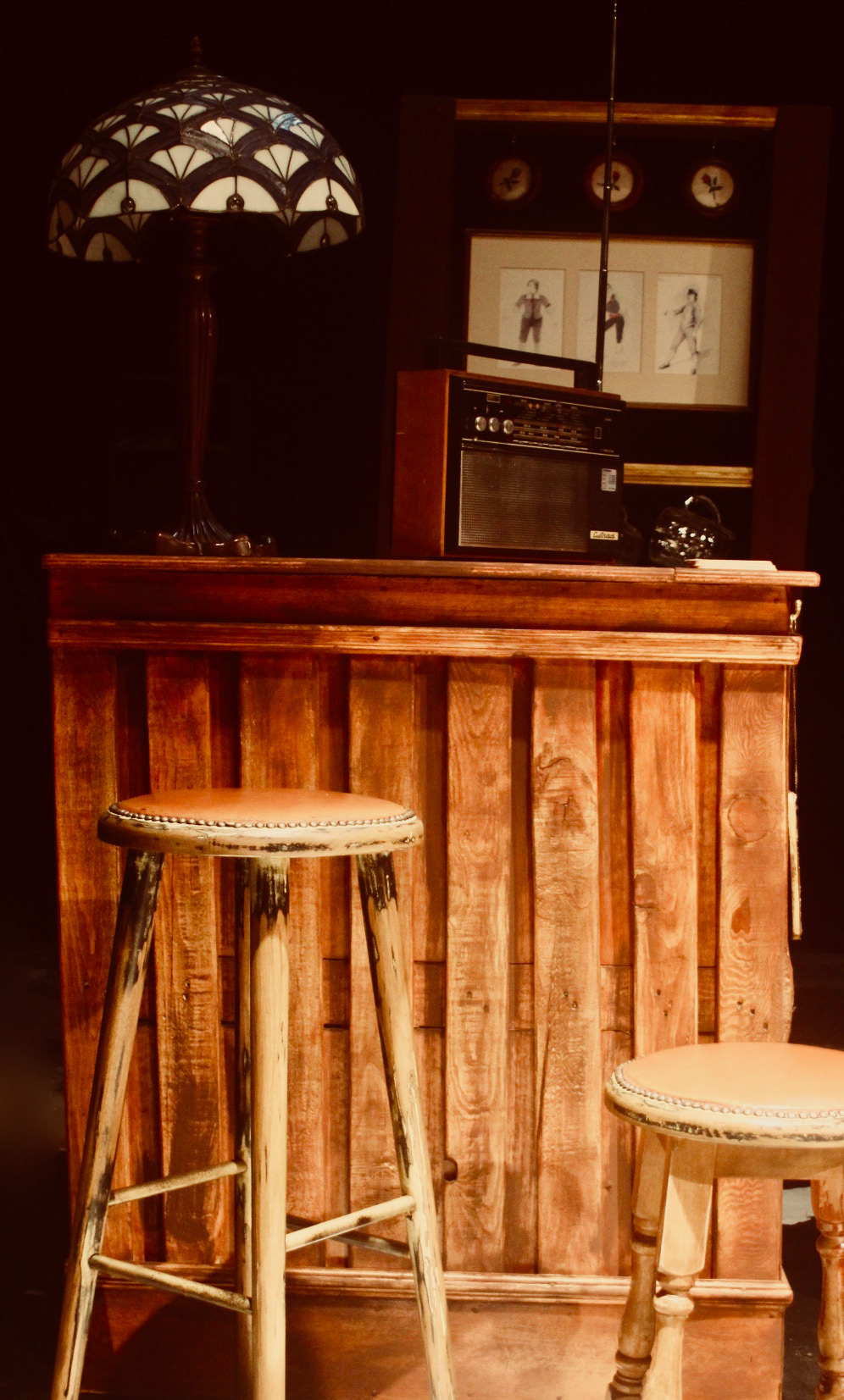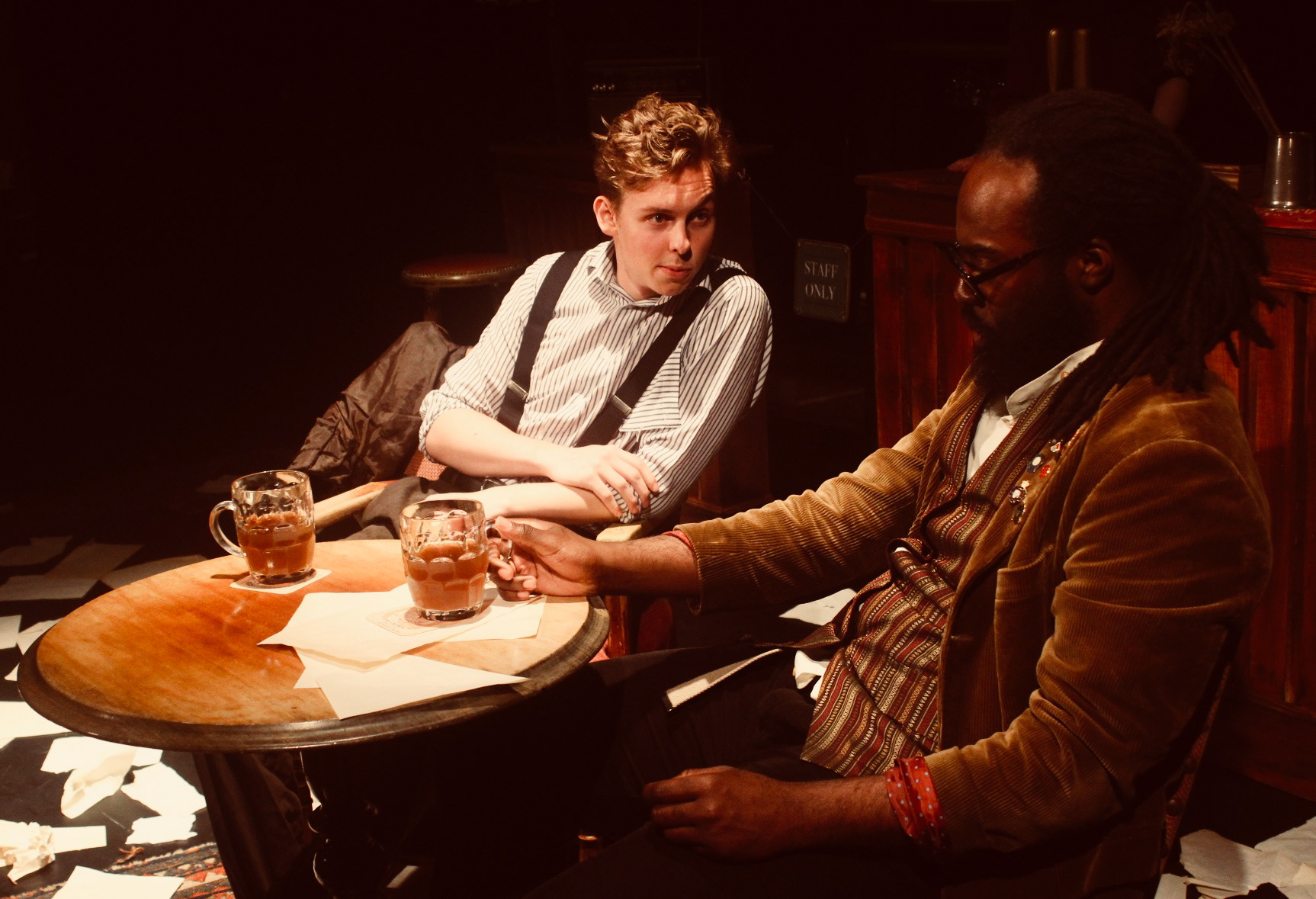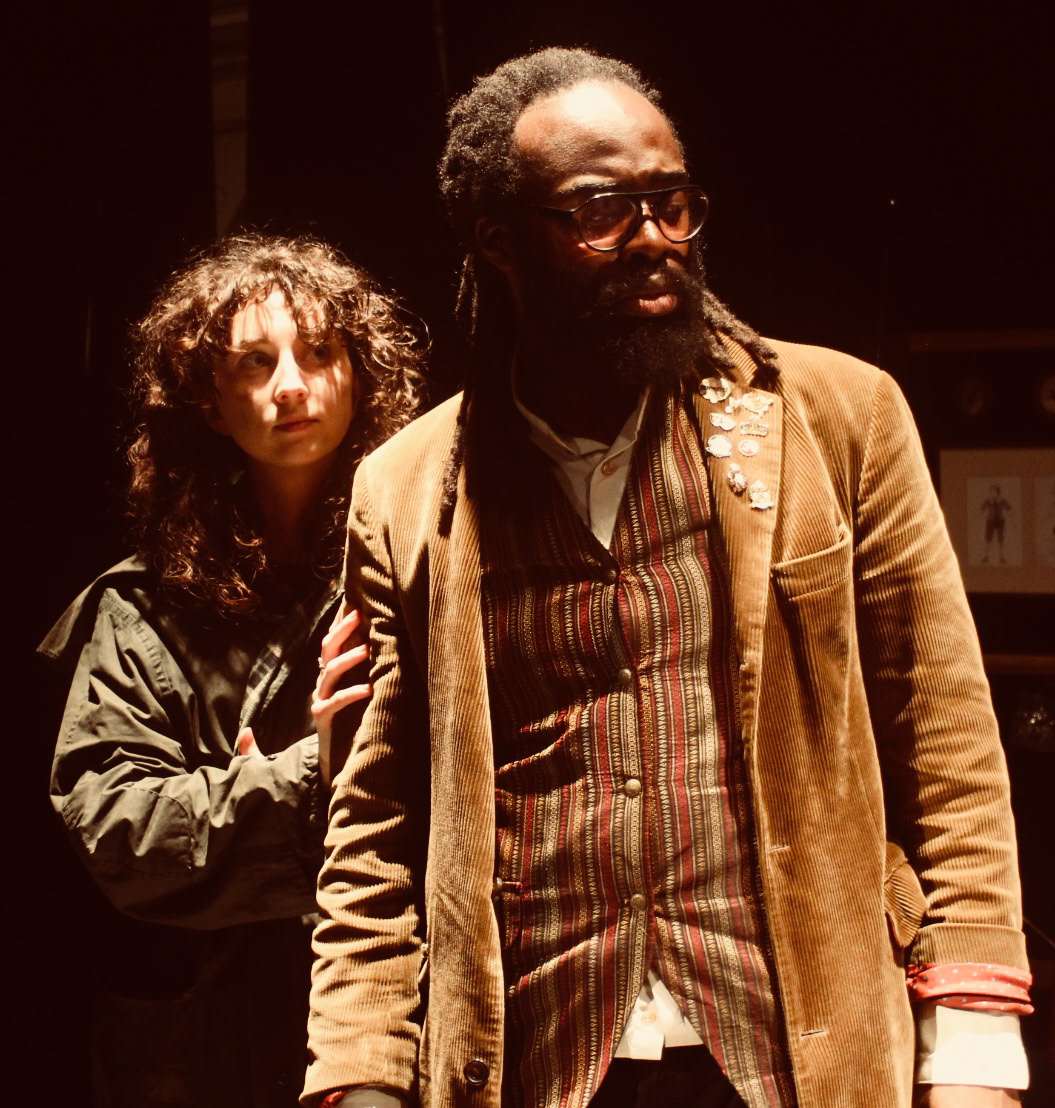 Photography: Artist's own.
REVIEWS
"Whether it's really the end of the world, or just the end of the road, the set up feels distinctly dystopian.  The derelict bar and tattered clothing all contribute to Berniston and Renford's recollections of the past, while the talk of the enemy and references to "the Crassers" creates a sense of foreboding...."
"Nowhere Orange hasn't skimped on the staging, with a realistic bar set filled with authentic props, while director Leo Flanagan has made good use of the space..."
https://theatreweekly.com/review-nowhere-orange-at-theatre-n16/